Nested Portlets
Nested Portlets
Web Content Display
Web Content Display
Iwona Grabska-Gradzińska, MSc, MA
research assistant
WFAIS UJ, ul. Łojasiewicza 11, room C-2-30

Web Content Display
Web Content Display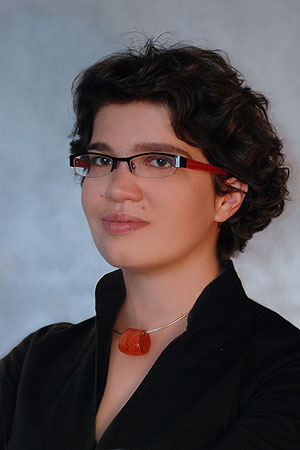 Web Content Display
Web Content Display
Completed studies in Computers and Polish. Interests: embraces both the computer science and humanities – linguistics, game narrative structures analysis, visual perception (especially eye tracking), recognition, and reasoning. Works with visual aspects of human/computer communication, aided design and reasoning, as well as computer-aided linguistic text analysis; participates in a project of literary text linguistic analysis with scaleless networks, as conducted by Department of Complex Systems Theory Institute of Nuclear Physics PAN.
Web Content Display
Web Content Display
Selected publications
Full publication list: RUJ UJ, Research Gate.
I. Grabska, D. Wasilewska, Lekcja historii Jacka Kaczmarskiego, Wydawnictwo DEMART S.A. Warszawa 2011, ISBN 9788374276368, stron 304
S. Drożdż, P. Oświęcimka, A. Kulig, K. Bazarnik et al., Quantifying origin and character of long-range correlations in narrative texts, Information Sciences, 331, 2016, pp. 32-44
Grabska-Gradzińska, I., & Argasiński, J. (2017). Serious games evaluation using eye-tracking and affective computing techniques case study of OSH training course. In R. Oberhauser, J. Park, S. G. Scholz, P. Rosenthal, & L. Ruzic Kascak (Eds.), ACHI 2017 : the Tenth International Conference on Advances in Computer-Human Interactions : March 19-23, 2017, Nice, France (pp. 260–264). IARIA. https://www.thinkmind.org/index.php?view=article&articleid=achi_2017_12_20_20179
Grabska-Gradzińska, I., Grabska, E., Nowak, L., & Palacz, W. (2020). Towards automatic generation of storyline aided by collaborative creative design. In Y. Luo (Ed.), Cooperative Design, Visualization, and Engineering : 17th International Conference, CDVE 2020, Bangkok, Thailand, October 25–28, 2020, proceedings (pp. 47–56). Springer. https://doi.org/10.1007/978-3-030-60816-3_6
Grabska-Gradzińska, I., Nowak, L., & Argasiński, J. (2019). Applying oculography and biosignals measurements to gameplay modes analysis. In T. Ahram, R. Taiar, S. Colson, & A. Choplin (Eds.), Human interaction and emerging technologies : proceedings of the 1st International Conference on Human Interaction and Emerging Technologies (IHIET 2019), August 22-24, 2019, Nice, France (pp. 338–343). Springer. https://doi.org/10.1007/978-3-030-25629-6_52
Grabska-Gradzińska, I., Porębski, B., Palacz, W., & Grabska, E. (2012). Towards a graph-based model of computer games. In A. Ezendu & V. V. Das (Eds.), 2012 Advances in Information Technologies and Communication 2012 : proceedings of Joint International Conferences on ICT, CIT, PECS and EMIE 2012 : Amsterdam, Netherlands, held over various dates in 2012 (pp. 34–39). ACEEE.
Palacz, W., & Grabska-Gradzińska, I. (2020). Textual representation of pushout transformation rules. In Y. Luo (Ed.), Cooperative Design, Visualization, and Engineering : 17th International Conference, CDVE 2020, Bangkok, Thailand, October 25–28, 2020, proceedings (pp. 75–80). Springer. https://doi.org/10.1007/978-3-030-60816-3_9